Welcome to WCW homepage!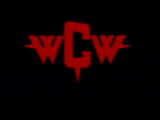 Headlines News 7/9/01

Last night was very shocking, Stephaine owns ECW! Paul Heyman (WWF Announcer) is the real owner. All ECW superstars will invade the WWF with WCW. Starting this thursday on Smackdown. And also a match that will happen on Smackdown Stone Cold & Kurt Angle will put the titles on the line vs. APA (Acolytes).