Today Headlines News!
7\9\01

Stephanie McMahon owns ECW!

Shane vs. DDP, but it was a setup to get the Undertaker and his wife Sara.

Chris Jericho joins Vince,Austin and Kurt team!

Torrie Wilson & Stacy Keibler vs. Lita & Trish Stratus at WWF Invasion In Your House!

Kurt Angle vs. Booker T last night.
Raw is War Results 7/9/01

W-Won

1.One on One
Christain vs. X-PAC-W

2.Tag Team Match
Dudley Boyz vs. APA-W

3.WCW Crusierweight Championship
Johnny Ace vs. Billy Kidman-W

4.Mixed Tag Team Match
Sipke Dudley & Molly Holly vs. Trish Stratus & Big Show-W

5.WWF European Championship
Perry Saturn vs. Dean Malenko-W

6.WWF Championship
Undertaker vs. Chris Benoit-W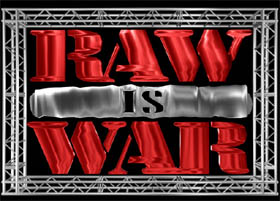 Next Monday
7/16/01

Minneapolis, MN (Target Center)



Picture of the Day (7/9/01)!